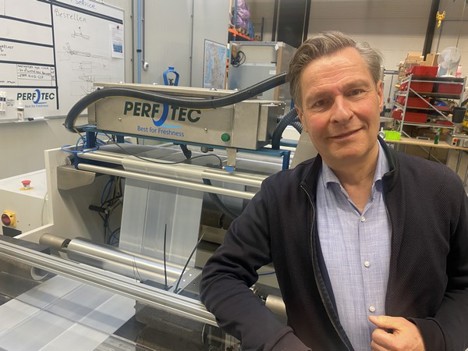 PerfoTec Now Listed on the NPEX Stock Exchange
Investors can now purchase certificates of shares and/or bonds for PerfoTec through the NPEX stock exchange. We plan to allocate part of this funding to support our expected growth in the United States. Additionally, a portion is earmarked for expansion in our PerfoTec Film solutions. We are also on the eve of launching a new pallet solution and funds are also reserved for this initiative.
PerfoTec believes that this is the right time to strengthen our capital position. Our technology and expertise in sustainable packaging are increasingly recognized throughout the logistics chain, as more businesses focus on sustainability and reducing food waste.
Our portfolio is based on optimizing gas composition in packaging to extend product lifespan and slow down aging. Here's how it works:
FRM measures the rate at which the product respires.
Our online platform converts these respiration data into the ideal packaging permeability so that this gas composition is achieved.
The laser adjusts the permeability of the packaging to permit the right amount of oxygen and CO2 to achieve the ideal gas composition.
The O2Control ensures that the packaging contains the ideal gas composition right from the moment of packaging.
The Film solutions with the right permeability properties support this process so that the product has an even longer shelf life.
If you want to know more , please check the NPEX website: https://www.npex.nl/
#funding #sustainability #technology
November 25, 2022